Join us for the 2019 iLEAD Agua Dulce Jamboree!
Interested in being a sponsor? Contact Charlene Spiteri at family.engagement@ileadschools.org.
Scroll down and read about Lee Jennings, our Community Honoree.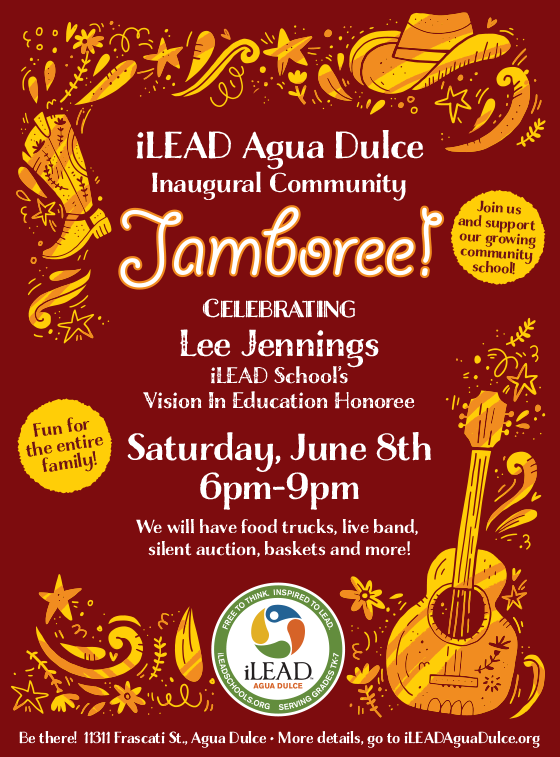 Meet Lee Jennings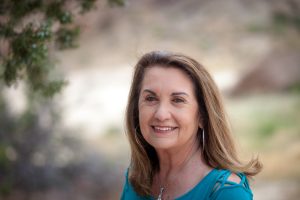 Lee was born and raised in California. As was typical at the time, she married her high school sweetheart and raised a family. Not so typical of the time, she also earned her BA in English Literature at age 60 and worked for many years as a Systems Analyst. Her stories from that time and her work on the 1984 Summer Olympic Games in Los Angeles would make you fully appreciate what a smart, fun and high-spirited woman she was and remains today.
On the home front, she and Jim moved their family to Agua Dulce 48 years ago. They felt it was the perfect setting to raise their four children, even if it meant commuting out of the area for her work and Jim's work in law enforcement. The kids all went to local schools and thrived.
When Lee retired 21 years ago, she didn't go quietly into the night or sit idly by waiting for her children and grandchildren to visit — She embraced her love of entertaining, live music, theater, reading, and traveling.
She also took her considerable energy and talents and got involved in the community. She has been a member, board member, and continuous volunteer in just about every organization there is in the Acton/Agua Dulce area, and her efforts have not gone unnoticed. She and her family have been repeatedly recognized for her volunteerism. They were named Family of the Year in 2002 and Pioneer Family of the Year in 2007 by the Agua Dulce Country Fair committee. She has been awarded the Golden Apple Award, twice by the Acton/Agua Dulce Unified School District. And, she is a well-known figure in helping to produce many traditional events around town, like the Agua Dulce Country Fair, the Acton 4th of July Parade, the Agua Dulce Picnic on the Porch, the Veterans Day Celebration, and numerous events put on by the Friends of the Acton/Agua Dulce Library.
As if all this weren't enough, Lee's biggest passion is supporting the local schools. She is a constant presence at School Board meetings, PTO/booster club meetings, and school events. She is the force behind the meals or refreshments provided for faculty, teacher, parent, or student events. She likes to say that a good day is a day when she has a couple of meetings, and an event to cater.
So, it should come as no surprise that she supported iLEAD's application to open at the Agua Dulce campus or that, after it was approved, she jumped right in to help in any way she could. She has lent her community knowledge, enthusiasm for education, and her time to iLEAD and is pleased to do so.